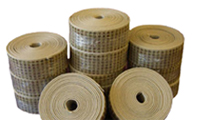 Carpet base is an attractive, effective, efficient and custom alternative to conventional baseboards made of vinyl, wood, and rubber. The use of carpet for cove base allows the client to specify the specific type and color of carpet to be used and to determine the exact height of the base manufactured. A custom height carpet cove base can cover previous damage to the walls and helps protect them from future damage and scuffs from shoes, furniture, and vacuum cleaners while maintaining a neat and clean appearance.
Your carpet base will be fabricated from your own carpet which offers design continuity, pricing advantages, and superior aesthetics unavailable with conventional wall base. We cut, bind, package and deliver carpet cove base to clients, contractors, and job sites throughout Texas, the US and the world by dedicated truck, common carrier, or container.
Contact Us for the best price on your upcoming project.