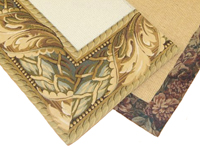 A "Fabric Border" is created when fabric, vinyl, leather, or a wide pre-prepared tape is applied much like a picture frame to any floor covering material such as carpet, Sisal, Berber or an existing area rug. This "Fabric Border" may include multiple strips of material and can be up to 10" wide.
"Fabric Borders" work very well with Berber and Sisal material but can be applied to most floor covering products. "Fabric Bordered" rugs may not be circles, ovals or have rounded edges. View the Fabric Borders Gallery of pictures to see some of the possibilities.
Contact Us to learn more.
Hidden Stitch Fabric Border(up to 10″ wide with mitered corners)
Top Stitch Fabric Border (up to 10″ wide with mitered corners)
Top Stitch Fabric Border (up to 1 1/2″ wide-box corners)
Multiple Fabric Border (up to 10″ wide with mitered corners)
Interior Fabric Border (up to 10″ wide with mitered corners)
Padded Fabric Borders adds height/thickness to the border (Up to 10″ wide with mitered corners)