Quality craftsmanship, innovative design, reliable service and competitive pricing have made us the choice of clients Texas and Nationwide for over 20 years.

Stephens Carpet Binding and Custom Rug Design creates uniquely stylish and versatile floor covering solutions. We offer carpet and rug binding, serging, fringing, carpet cove base and rug repair. We specialize in rug augmentations, inlays, carving and sculpting as well as carpet, leather and materiel borders.
Call – 800-205-6016 – Our friendly knowledgeable staff is available to answer all of your questions about area rugs, rug runners, stair runners, indoor outdoor rugs, your carpet remnants or help you create a custom rug using your design or one of ours.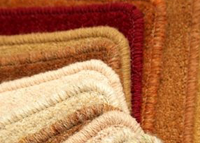 Rug Binding is the process of finishing the edge of any floor covering material to make it into an area rug. Binding a floor covering material is necessary to prevent the edges of the material from fraying and raveling. The binding method used depends on the type of floor covering material that is being bound.
Rugs can be bound through the process of Binding, Serging, Fringing, and Fabric Borders.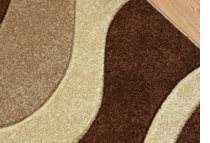 Rugs customization is by definition "custom" and comes in many forms from the simple addition of a
Carpet Border
to an elaborately shaped rug utilizing
Inlays,
Carving and Sculpting.
Pictures, logos or names are all the "norm" in this genre of rug.
Leather and Fabric Borders are popular choices when customizing Sisals and Berbers and give the rug an extra dimension in texture and color.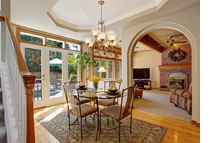 The proliferation of hard surface flooring in homes, schools, hospitals, nursing homes, restaurants, businesses, hotels and office buildings has increased the demand for all types of area rugs. Pre-made area rugs are readily available from many sources but only come in a limited number of sizes, shapes and colors that often won't meet your specific requirements.
Our Rug Augmentation service adds colors, borders, and increases or decreases the size of your rug(s) creating a totally unique rug that is custom made to fit your needs. Large area rugs, living room rugs, dining room rugs, rugs for kid's rooms or rugs for oddly shaped rooms are just some of the possibilities.
When dealing with stairs a custom Stair Runner or carpet stair treads not only completes the overall look with stylish elegance but improves the safety of every flight of stairs as well. We can also create matching hallway runners or rug runners for other rooms.